Custom Steel Tube Bending
Custom Steel Tubing & Steel Tube Fabrication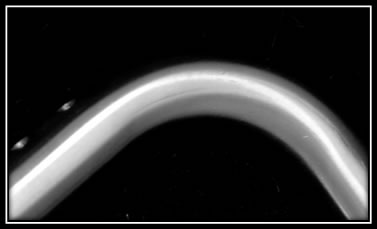 ---
Steel tubing is widely used in industrial and structural applications because of its stability, strength, and durability. Its high tensile strength makes custom steel tubing difficult to bend or break, and its durability provides great resistance to shock and changes in pressure. Steel is also rust and chemical resistant, and therefore a suitable material option for outdoor applications and harsh operating environments.
Custom steel tubes are heavier than aluminum and stainless steel tubing and do not provide the same shiny, attractive finish.  If weight or aesthetics are a priority, steel might not be the right option for your application.
Bending steel tubing involves different methods including roll bending, ram bending, rotary draw bending, and mandrel bending. Each method uses a different type of tooling setup to achieve the desired bend, whether it's a slight angle or a tight coil. Our experts know how to bend steel tubing to your specifications and use specialized equipment and processes to prevent wrinkling, collapsing, or other damage.   
Contact Triad to learn more about our services for fabricating and bending steel tubing or submit a quote request for your project.
Custom Steel Tube Bending and Fabrication Services
For over 30 years, Triad Products has been a leader in medium volume steel tube bending & fabrication. Our specialized equipment and focus on small to medium production runs allow us to accommodate projects and design variations that can't be handled by other tube bending operations. When you combine this with our other manufacturing and assembly capabilities, we can see why OEM's coast to coast choose Triad Products as their single source supplier when they need to bend steel tubing.
With a skilled, experienced staff and our tube bending equipment, we provide steel tubing components that match our customers' specifications. Our turnkey solutions include bending, welding, coating, post-bend threading, and other secondary services to deliver a complete project without you having to work with multiple vendors. When you work with Triad, you will benefit from shorter lead times and the specialized attention your project needs.
Standard Steel Tubing Sizes
Triad Products can bend and fabricate steel tubing to meet a wide range of sizes. Standard sizes for steel tubing range from 1/8" to 1" in diameter, with capabilities up to 2 ½".
3/8"
1/2"
1/8"
5/8"
3/4"
1/4"
7/8"
5/16"
1" in Diameter
Steel Tubing Grades
We provide custom steel tubing in all standard grades available and others as specified by the customer. Request a quote or contact us to learn more and discuss the size and material requirements for your OEM project.
Custom Steel Tube Bending for OEM Applications
We specialize in bending steel tubing to meet a wide variety of applications and industries. With the ability to bend and fabricate steel tubing into components in production runs in the 100's and 1,000's of units, makes our steel tubing components ideal for a wide range of OEM industries and applications. A few examples of our steel tube bending & fabrication projects are listed below. View our Bent Steel Tubing Photo Gallery to see additional project examples.
Custom Steel Tubing for Propane and Oil Lines
Custom steel tubes provide the durability and corrosion resistance required for oil and gas line applications. We bend steel tubing to create delivery lines for propane and oil used to operate grills, heaters and other small appliances.
Bending Steel Tubes to Create Customized Handles
Steel tubes can be bent in various configurations to make custom handles for equipment, portable appliances, equipment cases, and much more. We can also bend steel tubing for longer handles used with tools such as floor scrapers for wood finishing, bull nose scrapers for finishing stairs, and similar applications. We not only provide the custom steel tubes but offer welding and other fabrication services to complete your project.
Custom Steel Tubes for Product Displays
Steel is a durable tubing option for product displays and racks used to showcase textiles and other heavy products. Since these racks are typically mounted to the ceiling or wall, there is less concern about having the polished finish you get with other metals. If you prefer a nice finish but still need the strength and affordability of steel, we offer powder coating and other finishing options.
Photo Gallery: Bent Steel Tubing
Large Multi-Radius Case Handle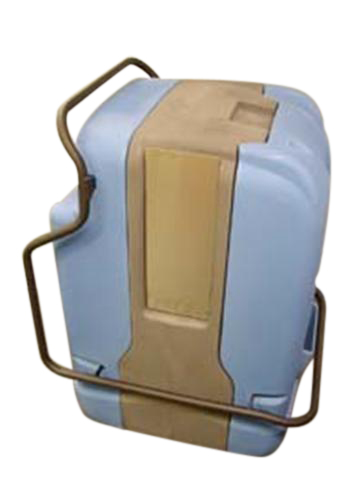 This large steel handle surrounding an OEM Equipment Case, allowing it to be handled in any position. The ½" Steel tubing includes multi-radius tube bending and secondary operations.
Circular Steel Tube Cooling Coils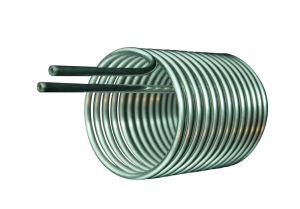 1/4'' OD steel tubing bent into a cooling coil, used to reduce the temperature of castings. Re-designed by Triad to improve for the client to improve cooling.
Steel Tube Oil Drain Line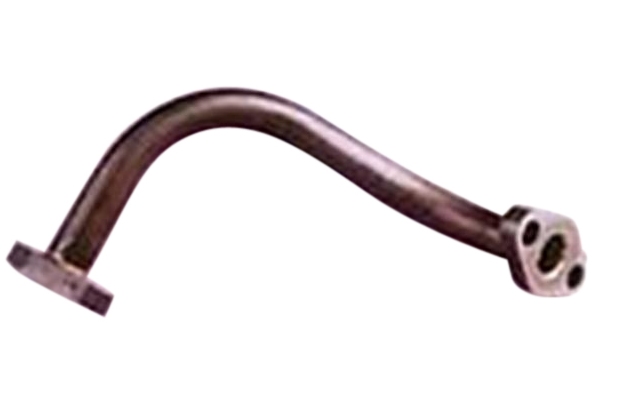 1'' OD steel tube with 3/8 steel flanges, which are silver soldered for assembly. Drain line component is used in a large OEM industrial engine.
Contact Triad Products Today for Custom Steel Tube Fabrication
Contact us to learn more about our custom steel tube bending and fabrication, or request a quote today.