Custom Tube Bending Services and Bent Tubular Components
Triad Products is your single source for tube bending, bent tubular components, coils and assemblies. We have the capability to manufacture quantities in the 100s to the 1000s and work with a wide variety of materials and manufacturing methods.
We offer diverse manufacturing capabilities to complete your project from start to finish. Whether it's a single component or a complex part, Triad's engineers can get the job done. We can complete projects based off your existing specifications or provide engineering and design services when additional assistance is needed.
Custom Tube Bending and Fabrication Capabilities
Specializing in tube bending 1/8" to 1" in dia., with tooling up to 2 1/2".
Diverse secondary capabilities include post bending threading, end forming, fabrication, welding, finishing and assembly.
We can bend and manufacture your individual components or the entire finished part.
Quality Control in compliance with Mil Spec & ISO Standards.
Request a quote or contact Triad today to learn more about our custom tube bending and tubular component manufacturing.
Watch videos on Triad's bending and manufacturing capabilities.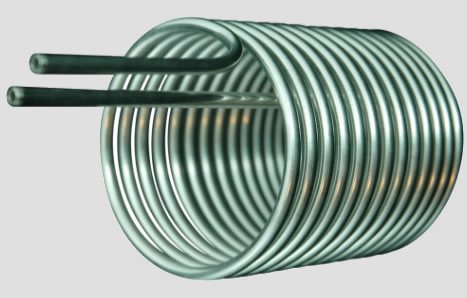 Tube Bending Services
With four decades of experience, Triad specializes in tube bending and fabricating services for different grades of steel, aluminum, stainless steel, copper and brass tubing. Our diverse fabrication offerings mean you can work with a single vendor from start to finish, saving you money and making for a more efficient process.
We can bend and fabricate metal wire up to 1/4" in diameter tubing from 1/8" to 1" or up to 2 1/2" OD upon special request. We also offer custom fabrication services including: cutting, drilling, piercing, and notching and can work with materials other than metal, including plastic and wood.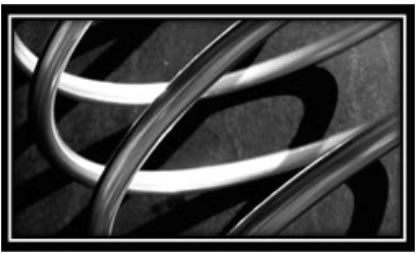 Bent Tube Components and Capabilities
We offer true turnkey service for your custom bent tube components and provide the full range of services needed to turn your tubing project into a fully assembled OEM tubular component, based on your exact specifications.
Our custom bent tube component capabilities include cooling and heating coils and lines, large circular coils, gas supply lines, fluid supply lines, electrical conduit and raceways, tubular handles, and tubular racks and frames. Whatever your custom tube fabrication project is, we have you covered!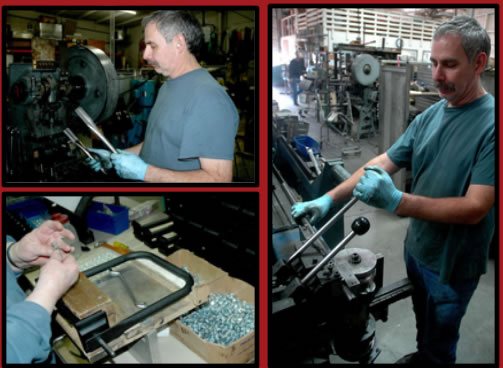 Tube Bending Secondary Operations
As a full-service company, Triad offers a variety of secondary options to complete your tube bending and tube forming projects. Our tube ending configuration capabilities include flaring, swaging, punching, piercing, flattening, threading, drilling, and pre- and post-bending threading of your custom metal tubes. We also offer MIG, TIC, conventional and resistance welding services, as well as conventional and CNC machining, sheet metal fabrication, and finishing.
Our secondary operations are offered for both individual components and complete parts and we have the versatility and experience to work with a wide range of materials. Our quality standards are Mil I 45208A compliant and Kanban programs are available upon request.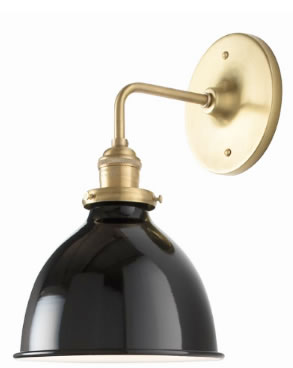 Metal Tube Applications and Industries
Our applications and industries include OEM tubular product fabrication services that match your product designs including tube bending, fabrication, finishing and final assembly. Our custom tube bending services also include tube bending for gas and fluid transfer systems for everything from gas grills and fireplaces to hydraulic systems and laser equipment.
Triad creates custom tubular wiring conduit that serves as a critical component for industrial machinery, lighting fixtures, and others by protecting wire from damaging elements and contaminants. We're able to fabricate electrical conduit to your specifications by offering tube bending services as well as secondary operations to finish your product.  Our custom tube bending for recreational products includes everything from camping gear to bike racks and accessories, including configuring, machining and finishing products to your specifications.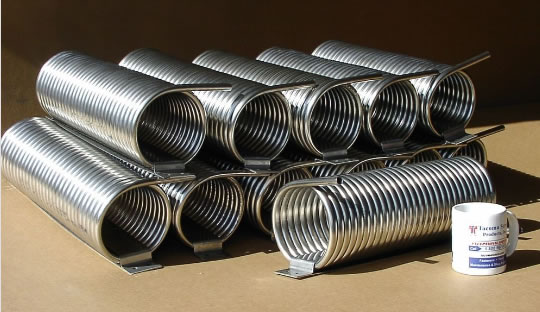 Custom Fabrication Photo Gallery
View our photo gallery to learn more about our finished projects that demonstrate our diverse capabilities for metal tube bending, secondary operations, end configurations, and more. Our projects have included everything from large cooling coils to tubular handles using a variety of materials ranging from sheet metal to rubber. We offer secondary operations, post-bending threading and end configurations to complete your project from start to finish.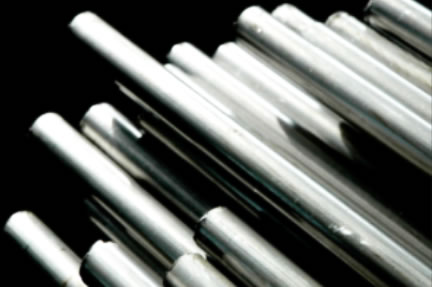 Tube Bending Resources
Triad provides resources including an expansive tube bending media and reference library with videos, photos, and fact sheets to provide you information related to our entire manufacturing process, including our custom tube bending and fabrication capabilities.
Browse our Basics Facts and FAQ's to learn about different types of metal pipes and tubing, including the advantages and disadvantages of different material types. Watch our videos for a virtual tour of our manufacturing facility and see photos of the metal tube bending projects we've completed for different industries and applications.
Featuring - Bent Tubing, Coiled Components and Capabilities.