Custom Stainless-Steel Tube Bending
Custom SS Tube Fabrication & Finishing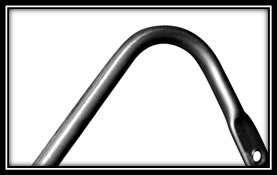 ---
Stainless steel tubing comes in several different alloys and is a popular material option across a variety of industries. It provides the same strength as steel but offers better corrosion resistance and has a bright, low-maintenance surface finish that is preferred for applications where the tubing is exposed.
Custom stainless steel tubing is manufactured using different types of machinery and methods depending on the bend angle, wall thickness, outside diameter, and centerline radius. The grade of your custom stainless-steel tubing also determines the type of bending process used and determines the radius that can be achieved without damaging the tube. Some stainless steels are harder to bend than others, and applications requiring a coil or other tight radius will require a different grade than a piece of tubing.  
Our experts will review your design and select the best process for bending your custom stainless-steel tubing. Request a quote or contact us to learn more about our stainless-steel tube bending services.
Custom Stainless-Steel Tubing Bent to Your Specifications
Triad Products specializes in our ability to fabricate and bend stainless steel tubing in quantities 100's to 1,000's and has the expertise to handle design variations during the production process. We provide our customers with specialized attention and use our stainless-steel tube bending expertise to deliver high-quality products to meet your needs. When you combine this with our other manufacturing and assembly capabilities, we can see why OEM's coast to coast choose Triad Products as their single source supplier for stainless steel tubing fabrication.
Our highly trained, expert staff and manufacturing equipment enable us to provide stainless steel tubing components that meet our customers' exact needs. Our secondary operations include machining, drilling, welding, threading post bending, finishing, assembly, and more to provide our customers stainless steel tubing components that match their exact specifications, saving them time and money in additional production.
Contact us to discuss your custom stainless steel tubing requirements.
Standard Stainless Steel Tubing Sizes
Triad Products bends and fabricates stainless steel tubing to meet a wide range of size requirements. Standard sizes for stainless steel tubing range from 1/8" to 1" in diameter, with capabilities up to 2 ½".
1/8"
3/16"
1/4"
5/16"
3/8"
1/2"
5/8"
7/8"
3/4"
1"
Up to 2.5
Stainless Steel Tubing Grades
We provide stainless steel tube bending using 301, 304, 316, and other grades as specified by the customer. Contact us to discuss your material requirements or request a quote for stainless steel tubing fabrication services.
Stainless Steel Tube Bending Applications & Industries
The ability to bend and fabricate stainless steel tubing into components in production runs in the 100's and 1,000's of units makes our tubing components ideal for a wide range of OEM industries and applications. Visit our Bent Stainless Steel Tubing Photo Gallery to see more examples of our stainless steel tubing and fabrication projects.
Stainless Steel Tube Bending for OEM Equipment
Stainless steel tube bending is used to manufacture bumpers and tubular handles for different types of OEM instruments and machinery. Bumpers and handles can be formed for stationary and portable equipment on varying sizes, and in the exact length you need. We can also weld and apply finishes to your custom stainless steel tubing upon request.
Stainless Steel Tubing for Manifolds and Hydraulic Fluid Supply Lines
Tubing is used to transport hydraulic fluid to and between power transfer components. Custom stainless-steel tubing is an excellent choice for hydraulic fluid applications because it is low maintenance and can handle higher operating temperatures than hoses. We can also custom bend stainless steel tubing for manifold assemblies that regulate flow between pumps and other hydraulic components.
Stainless Steel Tubing for Cooling Coils
Stainless steel is ideal for cooling coils because it is corrosion resistant, and heat and chemical resistant. We bend stainless steel tubing in the radius and pitch required for your cooling application and can add end configurations to deliver a finished product. Our specialists will work with you to determine the tubing size needed to achieve the desired pitch and radius. We can also assist with design variations as needed.
Photo Gallery: Bent Stainless Steel Tubing

Stainless Steel Tube Manifold Assembly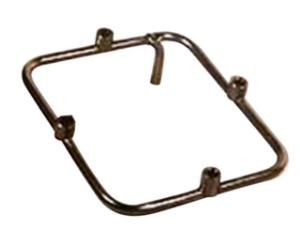 3/8" stainless steel tube bent and fabricated into a complex manifold assembly.
Large 18'' Long Cooling Coil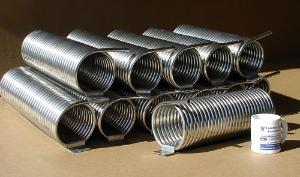 Bending  ½" stainless steel tubing, into a 18" long cooling coil. They are comprised of 30 revolutions about 5 ½ " in diameter. Secondary operations included, the addition of a 2" wide stainless steel mounting bracket, for easy installation inside a vessel.
Stainless Steel Instrument Handle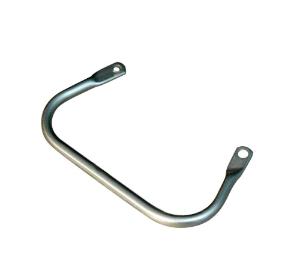 1/4'' stainless steel tubing is bent with secondary operations include flattening and drilling. This handle is used in an electronic compass, designed and manufactured for mounting.
Contact Triad Products for Custom Stainless Steel Tubing Fabrication
Contact us or request a quote to learn more about our custom stainless steel tube bending and fabrication services.