Custom Copper Tube Bending
Copper Tube Components & Copper Tube Fabrication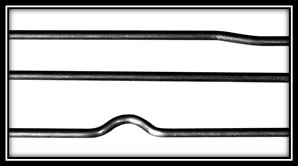 ---
Copper is a lightweight material that offers excellent thermal and electrical conductivity and tolerates extreme temperatures. These properties, along with its excellent corrosion resistance, makes copper tubing a preferred choice for residential and commercial plumbing applications. Custom copper tubing is also used to manufacture refrigeration and supply lines, and cooling components for lasers and laboratory testing equipment. Finished tubing is joined together using threads, flared ends, compression fittings, and soldering. 
The excellent formability of copper makes it easy to bend, though caution must be taken to prevent crushing during the bending process. Copper tube bending is accomplished using different equipment and methods such as rotary draw bending, roll bending, mandrel bending, and ram bending.  Each process is unique and provides different benefits, and the company performing the copper tube forming will determine which is best for your specific project.
Contact us to learn more about our customized copper tube forming services.
Custom Copper Tube Bending for Heating and Cooling Applications
Triad Products specializes in custom copper tube bending and copper tube fabrication for small to medium production runs ranging from one hundred to a few thousand pieces. We use specialized equipment and offer custom threading, end configurations, and other services to provide turnkey solutions for your copper tube bending project. Our company is also one of the few vendors that offer post-bend threading and 45-degree flare ends for custom copper tubing.
Because we focus on creating custom copper tube components, our customers know that they'll receive the highest quality products for their unique applications. And, when you combine our expertise in bending copper tubing with our other manufacturing and assembly services, it's easy to see why OEMs coast to coast choose us as their single source supplier for custom copper tubing.
Request a quote on the copper tube components you need, or contact Triad to discuss your project.
Custom Copper Tubing Sizes
Our custom copper tube bending and fabrication capabilities enable us to provide bent copper tube in a range of sizes to meet your needs. Standard sizes for copper tubing range from 1/8" to 1/2" in diameter, with capabilities up to 2-1/2". The copper tube sizes we most frequently work with include:
1/8"
3/16"
1/4"
5/16"
3/8"
1/2"
Custom Copper Tubing Grades
Our standard copper tubing is available in many grades including, 122 refrigerator and air conditioning grade tubing, and as specified through customer request. Contact us to discuss your material requirements.
Custom Copper Tube Bending for All Industries & Applications
With our custom copper tube bending and copper tube fabrication capabilities, we can meet the needs of a wide range of applications and industries that use bent copper tube. We work with OEMs across a broad range of industries and provide specialized secondary operations including welding, flaring, and post-bend threading you can't find elsewhere.
Air Conditioning/HVAC Copper Tube Bending
Copper's strength and natural corrosion resistance make it an excellent material for long lasting, low maintenance components. This makes custom copper tubing ideal for plumbing, heating, cooling, and other mechanical systems. We offer copper tube bending in any shape and size you need, whether it's a straight tube with a single bend for a plumbing line or coiled tubing for a cooling and heating unit.
Custom Copper Tubing for OEM Equipment
In cooling system applications, water runs through bent copper tubing to reduce and regulate internal temperature. Copper tubing components are used in the cooling systems of many types of equipment and machinery including laboratory equipment, laser systems, and various other heating, cooling and refrigeration applications.
Custom Copper Tubes for Water Service & Distribution
Copper piping/tubing systems deliver clean, safe water—both hot and cold—for drinking and other potable and non-potable uses. Examples of projects we have completed for this industry include coils for water heating and cooling applications, and custom copper tubes for refrigeration and water supply lines.  
Custom Copper Tubing for Fuel Gas Distribution
Small yet strong bent copper tube is a cost-effective solution for the delivery of natural and LP gas in various applications including furnaces, gas fireplaces, and more.
Contact Us for Custom Copper Tube Bending & Fabrication
If you're looking for high quality, high precision custom copper tube bending, look no further than Triad. Request a quote or contact us to learn more about our custom copper tubing and other tube bending and finishing services.   
Bent Copper Tube Cooling Lines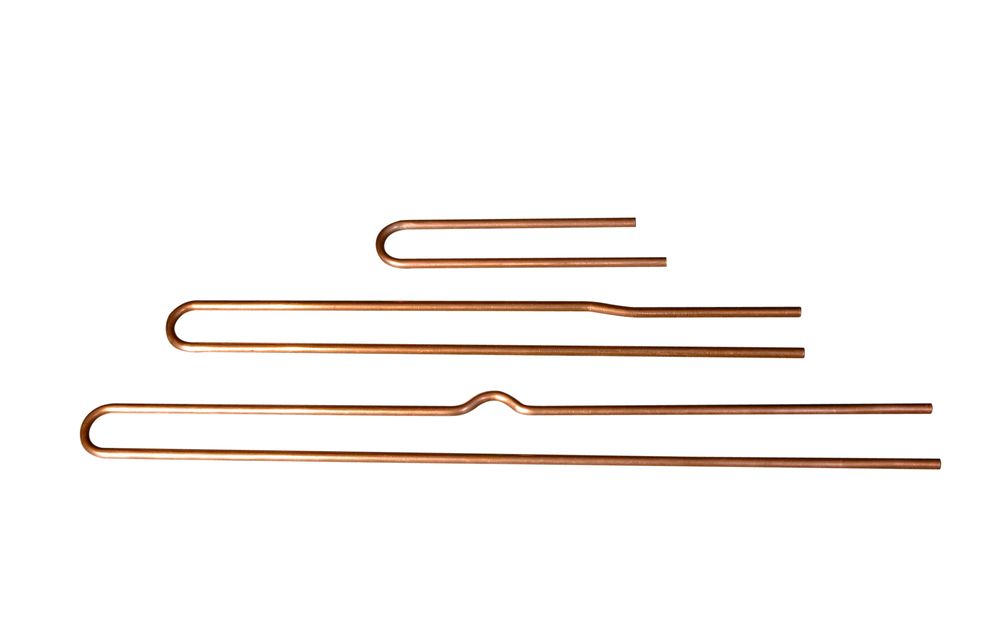 1/4'' & 3/8'' copper tubing, used in laser cooling application.
Linear Copper Cooling Loop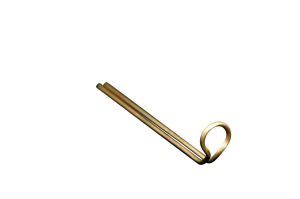 1/8'' copper tubing is bent into linear shapes, used in the cooling of an instrument. Triad assisted in the OEM design for manufacturability.
Copper Tube Bending