Custom Aluminum Tube Bending
Aluminum Tube Bending & Fabrication

---
Triad Products specializes in our ability to fabricate and bend aluminum tubing. Because we focus on aluminum tube bending, you know that you are getting the highest quality products available to meet your needs. When you combine this with our other manufacturing and assembly capabilities, we can see why OEM's coast to coast choose Triad Products as their single source supplier for aluminum tube bending.
Our highly trained, expert staff and manufacturing equipment enable us to provide aluminum tubing components that meet our customers' exact needs. Our secondary operations fabrication and assembly services—milling, drilling, welding, threading post bending, finishing, and more—provide our customers aluminum tubing components that match their exact specifications and save them time and money.
Standard Aluminum Tubing Sizes
Triad Products can bend & fabricate aluminum tubing to meet a wide range of sizes. Standard sizes for aluminum tubing range from 1/4" to 1" in diameter, with capabilities up to 2 ½".
1

/

4

"

3

/

8

"

1

/

2

"

3

/

4

"

1" in Diameter
Grades
6061, 6063, 3003, and Others as Specified by Customer
Aluminum Applications and Industries
We specialize in fabricating and bending aluminum tubing for the following industries and applications.
Tripod Stand for a Computerized Weather Station
Aluminum Tube Fuel Supply Line Used in Appliance Industry
Laboratory Cart Used to Carry Delicate Instruments
Wide Range of OEM Applications
Contact Us for Aluminum Tube Bending Services
Triad Products specializes in medium runs of 100s to 1000s in aluminum tube bending fabrication. Contact us or request a quote to get your project started today!
Featuring: ALUMINUM / Bent and Fabricated Aluminum Tube Components
With the ability to bend and fabricate aluminum tubing into components in production runs in the 100s and 1,000s of units, makes our tubing components ideal for a wide range of OEM industries and applications. Photo Gallery: Bent Aluminum Tubing. Click here, to visit Triad Products' portfolio of past aluminum bending and fabrication projects.
Collapsible Bike Rack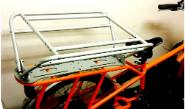 3/4'' aluminum tubing, cut and bent. Secondary Operations includes the tube threading, attaching inserts, finishing and final assembly onto a 3/16" aluminum plate which attaches to the bike. Precision Engineering allows the bike rack to configure from an upright position, to its collapsed position where it lays flat.
Aluminum Equipment Handle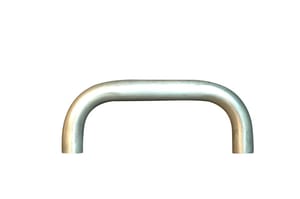 3/4'' aluminum tubing, cut and bent with ends threaded. Handle is used by an OEM in manufacturing.
Large Aluminum Cooling Coil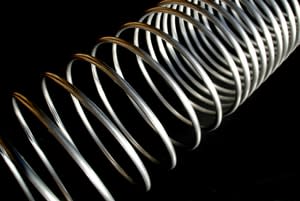 This 12'' in diameter cooling coil, is made out of 3/8'' aluminum tubing, 32'' long. Uniquely configured, the rate of the coil changes midway through the coil, from a pitch of one coil every inch, to one coil every 2 inches.