Custom Aluminum Tube Bending
Aluminum Tube Bending & Fabrication

---
Aluminum is a lightweight, flexible, and non-magnetic material used for a wide variety of OEM applications. Its ductility makes it easy to form into bent aluminum tubing of various configurations, ranging from slight bends to tight coils. A natural layer of oxidation protects against rust, corrosion, and some chemicals. Aluminum tubing also has excellent electrical and thermal conductivity and is a better conductor than copper tubing in certain applications.
Deciding Between Bent Aluminum Tubing vs. Steel Tubing
The cost of aluminum is typically higher than steel, but some OEMs prefer using bent aluminum tubing because it is approximately one-third the weight of steel tubing. This adds less weight to the final product, which is an important factor for gas lines, frames, racks, and lighting fixtures.
When deciding between bent aluminum tubing and steel tubing, consider the application and operating environment. Aluminum is durable and has a high strength-to-weight ratio, but it is not recommended for high-stress applications and high corrosion environments. For these applications, bent steel tubing is likely the better option. If structural strength isn't a priority but weight and aesthetics are, aluminum tubing might be the best option.
Our tube bending experts will go over your project and design details to help you decide which material is best for your OEM application. Contact us today to discuss your material and design requirements.
Custom Aluminum Tube Bending and Fabrication
Triad Products specializes in fabricating and bending aluminum tubing in quantities from 100's to 1,000's. Our focus on medium-sized aluminum tube bending runs allows us to produce the highest quality products available to meet your needs. We also offer fabrication and assembly services including milling, drilling, welding, threading post bending, finishing, and more to provide our customers with aluminum tubing components that match their exact specifications.
When you combine our manufacturing and assembly capabilities, we can see why OEM's coast to coast choose Triad Products as their single source supplier for custom aluminum tube bending. Request a quote or contact us to discuss your project and learn more about our custom aluminum tube bending capabilities.
Standard Bent Aluminum Tubing Sizes
Triad Products can bend & fabricate aluminum tubing to meet a wide range of sizes. Standard sizes for aluminum tubing range from 1/4" to 1" in diameter, with capabilities up to 2 ½".
1/4"
3/8"
1/2"
3/4"
1" in Diameter
Aluminum Tubing Grades
We work with materials of various grades for bending aluminum tubing. Options include 6061, 6063, 3003, and others based on customer specifications.
Custom Aluminum Tube Bending for All Applications and Industries
We specialize in fabricating and bending aluminum tubing for a wide range of industries and OEM applications. The examples listed below are just a sampling of our custom aluminum tube bending capabilities.  Visit our portfolio of past aluminum bending and fabrication projects or contact us to discuss your requirements.
Lightweight and Durable Racks, Stands and Carts Made with Bent Aluminum Tubing
Aluminum is not as strong as steel, but its lightweight structure makes it a good choice for tripod stands for a computerized weather station and similar portable items. Lightweight carts can also be made from bent aluminum tubing, such as those used to carry instruments and supplies in a laboratory setting. Other examples of bent aluminum tubing include store fixtures and display racks, architectural trim, framing, painting racks, dip tank racks, and much more.
Bending Aluminum Tubing for Propane and Natural Gas Lines
A combination of corrosion resistance and thermal conductivity makes aluminum tube bending a popular choice for propane or natural gas lines in fireplaces, ovens, and other appliances. This type of tubing can take many forms including lines with several angles or coiled tubing for heating and cooling applications.
Reflective Bent Aluminum Tubing for Lighting Fixtures
Aluminum is highly reflective and an excellent option for threading electrical wiring in light fittings and fixtures.  Since it is also lightweight, the bent aluminum tubing will not add a significant amount of extra weight to your fixtures. In addition to bending aluminum tubing for light fixtures, we provide custom threading based on your design requirements.  
Collapsible Aluminum Bike Rack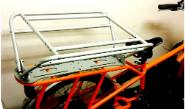 3/4'' aluminum tubing, cut and bent. Secondary Operations includes the tube threading, attaching inserts, finishing and final assembly onto a 3/16" aluminum plate which attaches to the bike. Precision Engineering allows the bike rack to configure from an upright position, to its collapsed position where it lays flat.
Aluminum Equipment Handle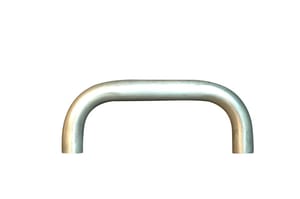 3/4'' aluminum tubing, cut and bent with ends threaded. The handle is used by an OEM in manufacturing.
Large Aluminum Cooling Coil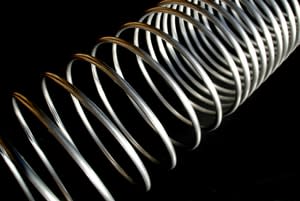 This 12'' in diameter cooling coil, is made out of 3/8'' aluminum tubing, 32'' long. Uniquely configured, the rate of the coil changes midway through the coil, from a pitch of one coil every inch, to one coil every 2 inches.
Contact Us for Aluminum Tube Bending Services
Triad Products specializes in medium runs of 100s to 1000s in aluminum tube bending fabrication. Contact us or request a quote to get your project started today!