Custom Bent Cooling Coils and Lines
Cooling Coils Custom Made in Stainless Steel, Copper, and Steel
Cooling coils are components that remove heat from equipment and machines. Industrial cooling coils are filled with either refrigerant or cold water. Bent cooling coils are manufactured in various configurations including lines, loops, and square or circular coils, depending on the application. Custom cooling coils are made using a range of different metals and can be used to carry steam, chilled or hot water, gases, and refrigerants.
Helical cooling coils are used in HVAC system components, laser equipment, refrigeration systems, food processing equipment, power generation facilities and other applications where temperature control is required. Some examples of industrial custom cooling coil bending applications include:
Heat exchanger coils for cooling and heating
Cooling loops and lines for cooling generators
Heat recovery coils and cooling loops for energy recovery applications 
Condenser and evaporator coils and lines for air conditioning units and refrigeration units
Custom Cooling Coils and Lines for Automotive and Industrial Applications
Metal tubing is also used to create custom lines and loops for automotive and industrial applications including coolant lines for vehicles, cooling coils to prevent laser equipment from overheating, and other liquid cooling systems. Custom cooling lines and loops contain water, refrigerant or coolant and help cool components and mechanical equipment by absorbing heat as the liquid passes through the tube.
Industrial Custom Cooling Coils for OEM Equipment and Machinery
Triad Products specializes in the bending and fabrication of custom cooling coils for OEM equipment and machinery. Per your material specifications, we can produce steel cooling coils, stainless steel cooling coils, copper cooling coils, or aluminum cooling coils that match your exact designs. These materials are ideal for helical cooling coils and cooling lines because they efficiently and easily conduct heat.
In addition to our precision tube bending, we also offer a full range of secondary services—including soldering, fitting installation, machining, finishing, and more—to give you complete, ready to use parts and assemblies.
Triad provides fast and efficient production for OEM custom cooling coils in mid-size production runs with quantities in the hundreds or thousands of pieces. We can provide OEM cooling coils that meet most MIL-SPEC standards.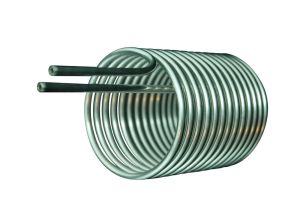 Cooling Coils Bent from Steel Tubing
Featuring:  A circular steel cooling coil, steel cooling coils are commonly used to cool down metal castings. Each steel cooling coil is made from high quality steel tubing to ensure reliability and durability.
1/4" O.D. coiled steel tubing
Used to reduce the temperature of freshly cast metal parts
Re-designed for customer application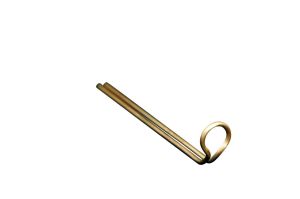 Custom Copper Cooling Coils
Because it is economical and exhibits excellent thermal conductivity, copper cooling lines provide an ideal solution for a wide variety of cooling applications. Custom copper cooling coils, lines, and loops are used in numerous OEMs applications, including air conditioning, refrigeration, and laser cooling. 
Featuring: A linear copper cooling loop
1/8" copper tube.
Used to cool an industrial instrument
Triad assisted in the OEM design for manufacturability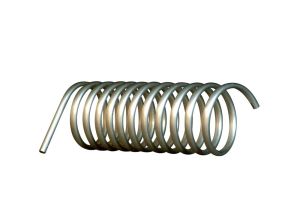 Custom Stainless Steel Cooling Coils
Stainless steel cooling coils provide an effective solution for cooling applications where corrosion and contamination prevention are important. Stainless steel cooling loops and coils also have a high strength-to-weight ratio and are well-suited for use in extreme temperature environments. Triad specializes in custom bending and fabricating stainless steel cooling loops and coils to meet a wide range of OEM applications.
Featuring: A circular stainless steel cooling coil
1/4" 304 stainless steel tubing bent into a 3" circular coil, 4" in length
This stainless steel cooling coil is used for temperature control in OEM equipment
Custom stainless steel cooling coil options: 304 stainless steel and 316 stainless steel
HVAC Custom Coils for Home and Commercial Cooling Applications  
Evaporator coils are used in both home and industrial air-conditioning units. They are located inside the air handler work by cycling refrigerant to absorb heat and cool the air. As hot air is pulled into the unit by a blower fan, the air passes over the coils and is cooled before flowing through an air vent and into a room.  Custom evaporator coils also help remove humidity by condensing water vapor in the air into a liquid that is then drained from the unit.
In addition to cooling units, custom HVAC cooling coils are used for refrigeration systems including standard units and walk-in coolers and freezers. As with air conditioning units, these cooling coils and loops absorb the heat from passing air to cool the inside of the unit to a specified temperature. 
Condenser coils are air conditioning unit components that cycle the refrigerant after it leaves the evaporator coils. The refrigerant enters the small cooling coils in the form of a heated gas, which then turns into a hot liquid. As the refrigerant flows through the condenser coil, it is slowly cooled by a fan before being cycled back into the air conditioning unit for the air next cooling cycle.
Learn Why Leading OEMs Choose Triad
Choosing a component manufacturer is an important decision. By researching their production capabilities, quality standards, expertise, and customer service, you will know all you need to select the right OEM supplier for your business.
Learn more about what it means to partner with Triad—a trusted OEM manufacturer in tube bending.
Discuss Industrial Custom Cooling Coil Fabrication with Us
With complete, turnkey service and the capabilities to deliver custom cooling coils that meet your exact specifications. For OEM cooling coils in quantities in the 100s to 1,000s of units, we are the custom cooling coil bending experts. Request a quote on custom cooling coils, or contact Triad to discuss your industrial water cooling coil project.
Cooling Lines
and Coils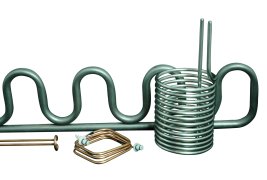 Triad Products is an industrial air cooling coil manufacturer specializing in medium runs in quantities of 100s to 1,000s. Our facility complies with various Mil-Spec Standards, making our small helical cooling coils ideal as components used in the gas, industrial OEM, and water industries. To learn more about our custom cooling lines, loops and coils, contact us today.